For young children the ability to track Santa Claus on Christmas Eve is as good as it gets. You can enhance that experience by clicking on one of the web sites to the left and allowing your children to track Santa's trip around the world.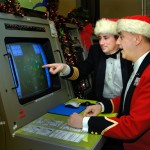 My family first found the Santa Spotter page on the Claus.com site about ten years ago. We would check the page just before leaving for Grandma and Grandpa's house around 5 pm. When we arrived at my parents house we would again check the site to see how far Santa advanced since we last checked.
After dinner we had a house full of kids all waiting for my parents computer to load the page and see just how far Santa was from our neck of the woods. The web traffic is considerable for these sites so if you don't have high speed internet you can be in for a wait.
One thing you need to be aware of is the fact some of these sites will tell you just how far away Santa is once you load in your location. So, if  the computer shows Santa to be only 30 minutes away then you better be sure that you can get the kids in bed before then.
All in all these web sites help keep the magic of Santa Claus on Christmas Eve alive and even enhances the experience for us old geezers who have long stopped leaving out cookies and milk.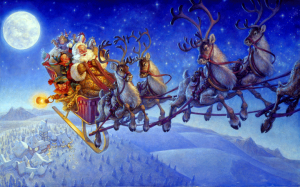 Tracking Santa Sites