The Christmas tree is one of the most recognizable icons of the holiday season. Buyers of these most sought after decorations basically have one question to consider: Should I buy a real evergreen or an artificial Christmas tree. Hopefully, a little thought and some browsing around on the Internet will help you make a decision.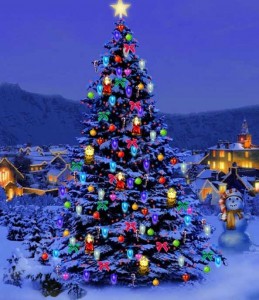 The first consideration you want to make is you own personal tastes. If you are a stickler for tradition then you will most likely be drawn to the traditional live Christmas tree. There are many beautiful varieties available during the holiday season and you can even order a real evergreen tree online.
The live evergreen holiday decoration is ideal for the traditionalist and it is also a great item to consider if you are short on storage space. If you have a cramped attic and you basement is overflowing with stuff, then a real Christmas tree is a great choice. You don't have to worry about stocking it away after the season.
The fragrance that the live Christmas tree brings into the home is magnificent and there are some who really make a strong connection between this scent and the holiday season. For some, there is no other choice than a real live evergreen for their Christmas decorating needs.
However, plenty of people prefer to use artificial trees to decorate their homes. The artificial Christmas tree is the perfect choice for someone who likes to keep things well organized during the off season. In no time at all, you can have your home decorated for the holidays when you have everything you need in stock.
The artificial variety also offers a lot of interesting colors and designs that you just can't find in nature. If you have your heart set on a pink Christmas tree, you have to go with the artificial approach. There are tons of options available and you can have a very colorful composition by using this kind of decoration.
How about convenience? There are even pre-lit Christmas trees that are a cinch to set up in your home. You don't have to worry about dealing with fussy wires and tangled lights when you choose the pre-lit version. This kind of Christmas tree comes in two basic forms: ones lit with traditional bulbs and ones that are fiber optic.
With all of the decisions that we have to make during the holidays things can get pretty stressful. I do have one suggestion. You might want to opt for having both. The real evergreen can be displayed in your living room while the artificial Christmas tree can be placed in your game room. This is the ideal approach to decorating a home for the holidays.