For children, Christmas offers so many magical moments and attractions. Whether it's the bright and sparkling colors that come with the various lights or the hundreds of ornaments that hang from the tree. However, for many they love staring into those magical Christmas snow globes.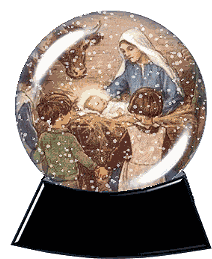 As a child I always remember a snow globe that my Grandmother owned. It featured a small village surrounded by a train that went in a circle and through a tunnel. I would shake the globe, winding the music box in it's base and sit transfixed.
I would imagine where that little train had been and wonder what it's next destination would be. With the snow whirling about and the windows in the tiny houses all lit up, it seemed every night in that village was Christmas Eve.
Today, one of my sisters collects snow globes, which makes gift giving easy each year. Her favorites are the Disney Christmas snow globes, although she enjoys the others as well. Some come with a music box and others light up, but they all tell their own little story.
Some folks actually make their own Christmas snow globes and their are plenty of web sites to show you how. I have never tried my own hand at creating a globe, but I'm sure the finished product is very rewarding.
Try some of the sites listed to the left and see if you can purchase a magical Christmas globe for your own family. It will serve you for years to come.