Christmas in July marks the half way point to their favorite holiday. Although to be accurate, six months from Christmas is June 25th, but "Christmas in July" rolls off the tongue better and July is more commonly known for hot weather and thus is the opposite of December.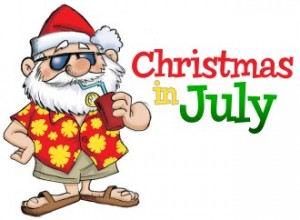 This un-official holiday has gained support in North America over the past ten years, but has been celebrated in Europe for centuries. Originally many celebrated July 26th as Christmas in July because it is the day that honors Saint Joachim and Saint Anne, Jesus' Grandparents. However, in North America it has become just another excuse to have a backyard party and hang the previously mothballed Christmas decorations.
For those who tune in to the cable shopping channels Christmas in July has become very big business. So much so that rival networks QVC and HSN have battled over who owns the rights to the slogan "Christmas in July". For those keeping score the judge ruled neither can lay claim to the phrase. Either way, the week of July 25th is when many begin their Christmas shopping by tuning into one of these cable shopping networks.
Christmas in July has also been celebrated by Hollywood and the entertainment field. In 1940 a movie entitled "Christmas in July" starred Preston Sturges in a romantic comedy script. Then in 1979 Rankin & Bass, famous for their stop motion animated Rudolph the Rednose Reindeer, did a summer special entitled "Rudolph's and Frosty's Christmas in July".
Various other cable TV channels have run Christmas themed cartoons and programs the week of July 25th as well, capitalizing on the void left by the usually slow summer offerings. All in all the third week of July usually features television programs one normally doesn't see until, well, now the end of October.
So, every July 25th you can hang the Christmas lights from the bamboo torches and put the wreath pool side, because Christmas in July has officially arrived.